Dear Friends,
Welcome to our website!  We are glad you have chosen to investigate our offerings.
We believe that YOU and your values matter!
Maybe you were one of the people at the 2018 Women's March in Lawrence, Kansas. Here's a video of the event. Maybe you were at the March on Sunday, January 21st. Stay tuned for photos and videos of both events.  Send your photos to be included too.
We will be updating the website over the next few days with photos and more videos. If you were there, you might find your picture here on our website. If you were there and I missed getting a photo of you, please email or text me one; I'll post it.  If you were at a Women's March somewhere else today, you might want to send us a photo of you,  your sign, your group, and or your family. We will post your photos here too! The first one you see in me in Lawrence on Saturday, January 20th.  The rest of the photos were all taken on Sunday, January 21st. at the March in Topeka…
You and your values matter!
We are a force!  We…the people!!!  We stand for love, kindness, equality, compassion, and empowerment!  We are CO-CREATING NEW REALTIES…Together! Go Team!
I am a Life Coach / Mentor who is dedicated to being an Educator.  As an educator, my role is to faciliate drawing out of each of us our unique gifts. The time has come for us to learn ways to release old patterns of victimization and co-dependency, and find ways to empower ourselves and others.
We teach the ABC's of Life: AUTHENTICITY, BRAVERY, and COMPASSION!
We believe that YOU and your values matter!
I am passionate about sharing the model of "Compassionate Communication" (AKA Giraffe Language) that I learned from Dr. Marshall Rosenberg, back in the 80's. Why is it called "Giraffe Language?" Because, of all land animals, giraffes have the biggest hearts!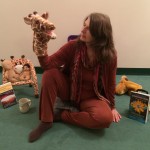 It changed my life. I choose to be of service to others on a one-to-one basis or with families, organizations, and businesses. My partner in life, Verne Brien, and I, also enjoy presenting workshops and sharing a variety of ways to implement the ABC's of Life to "Make America Kind Again."  Let us know how we can support you, your family, or your organziation.
YOU and your values matter!
Blessings, LaVetta
LaVetta Westphal-Rolfs
lavetta@learningforlifecenter.org    or  785-633-9999
"Think Globally, Dream Universally,
Keep your Feet on the Ground …and Have Fun!"